Visualizing Data Science with Virtual Reality: Isac Artzi, Grand Canyon University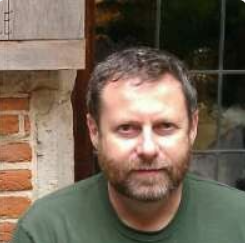 Bio: Dr. Isac Artzi is Associate Professor and the Program Lead of the MS in Computer Science and MS in Data Science at Grand Canyon University. Dr. Artzi teaches and conducts research in the areas of machine learning, virtual reality, and theory of computation. Prior to GCU, Dr. Artzi had a rich and diverse career highlighted by developing interactive multimedia educational systems at Michigan State University, developing satellite-based distance education technologies at Gilat Satellite Networks Ltd. in Israel, and patented application streaming technology at AppStream in Silicon Valley (acquired by Symantec). Recently, Dr. Artzi launched the Journal of Transdisciplinary Computational Sciences, where he serves as the Executive Editor. Dr. Artzi has BS in Computer Science from Ben Gurion University and an MS in Computer Science from Michigan State University. He completed his doctoral studies in Educational Systems Development at Michigan State University, a PhD in Instructional Design at Capella University, and the Data Science Specialization program at Johns Hopkins University.
Presentation Title: Virtual and Augmented Reality – The Inevitable Path Towards Reimagining Education and the Classroom Experience
Abstract: Virtual and augmented reality have ceased to be perceived as a futuristic innovation. After making serious strides in gaming, scientific simulations, healthcare, corporate training, and other areas, the technology is now ripe for serious adoption by educational institutions at all levels. I do not know a world without telephones, my children do not know a world without Internet, and my grandchildren will not know a world without VR/AR. I posit that we must do away with the archaic concept of textbooks, preparation for labs by reading a book, visiting a professor's office in person, passively watching a video stream, or interacting with classmates during a pandemic using audio/video only. VR and AR technologies are ripe for reinventing the classroom experience, blurring the distinction between bringing the students to the classroom or the classroom to students. During this presentation, I will share some concrete ideas and projects I pursued, which demonstrate what can be implemented with current technology. I will also outline a vision for the near and more distant future, which requires all of us to rethink curriculum, information dissemination, the classroom experience, and assessment.